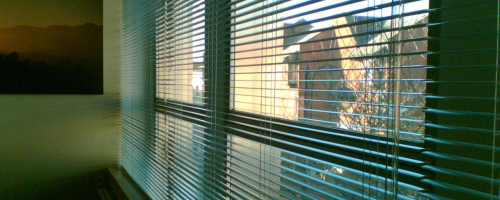 Pella was founded by Pete and Lucille Kuyper in 1925. They came from the small Dutch community of Pela, hence the name. They invented a special window screen which had the ability to roll up and down like a shade. As of today the company is still run by the Kuyper family along with professional help and is the 2nd largest manufacturer in America of patio doors, windows and entry doors. Pella has a team of over 8600 members who work diligently to ensure the best quality and have more than 200 window and door showrooms.
Things You'll Need:
Step 1:
Firstly remove the shade by pulling on the "U" shaped tab which is located on the corner. By doing this the side part of it would be removed. What's required next is to move the shade away from the side hinge and to the side where the clipped panels are, which will remove it completely. (The new models come with hinges instead of clips)
Step 2:
The next step would be to pull the tab and then put the removed shades back in to the proper place. Pella blinds are now cordless therefore all one must do is check where the shade operator handle is located which is generally near the bottom of the panel. This can be found generally prior to the inserting the panel. Once this is done it will enable the operator handle to raise and lower the shade without any hindrance.
Step 3:
Then what is required is to place the blind into the removable glass panel, which is done by sliding the top part of the blind into the stud which helps to mount it. Then the operator drive should be changed to the drive gear which is the hole shaped area. This side is marked as A and is located on top of the head rail. In certain cases you might have to move the blind operator handle upwards to ensure proper alignment of the blind.
Step 4:
Then firmly secure the blind head rail by pressing on the opposite side of the head rail over the other mounting stud, which is labeled as B on the top side of the shade. Finally close the hinged panel or in the case of the old blinds make sure the clip panel is reinstalled and closed completely. Failure to do so could result in the windows being fogged up.
References: